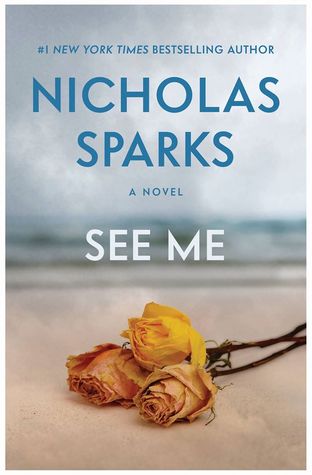 Review by: dancingforever27
This month, I read the novel See Me by Nicholas Sparks. Sparks has published around twenty books, and ten of them have been produced into movies such as The Notebook. This book surely does account to the exquisite love story of those other pieces of literature.
This narrative focuses on two characters through alternating third-person omniscience that varies each chapter.
Colin Hancock is the leading male character with a history of impulses that have gotten him in trouble with the police. He has been granted, by the authorities, five year probation to erase all of his criminal records, but a single petty offense could have him locked up for all of his charges.
Maria Sanchez, on the other hand, is a working daughter of a family that immigrated from Mexico. Speculated, everything in her life is met with awards, recognition, and success. She works at a law firm in Wilmington, North Carolina. Eventually, the reader comes to find out that this job has caused her trauma with their brutally aggressive cases.
In the first chapters, the reader is able to observe how the characters come to find one another, simply described as quite standoffish. The scene is set to be a rainy night where Maria has a flat tire on a stretch of road with little to no cars. Colin approaches Maria, tattoos and bruises laced across his body, offering assistance.She is immediately frightened as she suspects he could take her life without anyone knowing out in the middle of nowhere. Colin notices her terror and allots a large space in between them for her comfort, which helps her later trust him.
Shortly enough, the two twenty-eight year olds meet again and their love story begins. They are able to test how horrid tragedies, mainly involving a stalker, can either bring them together, or make them part ways.
All in all, this story has a roller coaster of a plot line, where every chapter has a new addition to the mystery of who is leaving mysterious signs for Maria.
This book also demonstrates consistency in many cases, especially through characters' actions, to make it more compelling to the readers. Barney, one of Maria's bosses, always stands or sits up straighter when he is feeling nervous or on the wrong side of an accusation. Colin frequently says "Okay." whenever there is an open ended statement requiring advice or further explaining. This tells the readers that he does not provide life assistance or advice, is always honest, and excepts the limits of what people will confess to him.
With the fact that Sparks used great character development, made careful decisions when choosing what actions those people would perform that stay true to their identity, and provides a love story while menacing messages are  produced, I would absolutely rate this book 10/10.
(This book will be rated for somewhat older audiences for intimacy. However, nothing is ever described in detail and is mainly only referred to.)
Ages 14+